All our SigmaCrete™ products can withstand direct flame at 900° Centigrade without losing structural properties.  All the panels have been tested and passed the most rigorous tests, showing that they are as strong as a concrete wall but lighter and are also bullet proof.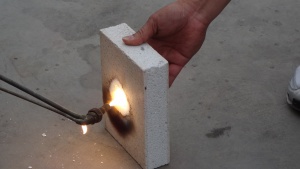 Safety Specs
Fire Safety: SigmaCrete™ is ASTM E119 & NFPA 251/ UL263 – CAN / ULC-S101M, S-135 classified non-combustible, 2010 NBC.
Impact: SigmaCrete™ is resilient to impact as tested by the ASTM C1325-04. These products can withstand abuse, as they are highly impact tolerant.
Sustainability
SigmaCrete™ has very low carbon footprint and it can be recycled or re-purposed. It contributes to clean landfills since it is classified as a mineral and when ground to powder becomes valuable in soil repair.
Thirty-Year Warranty
SigmaCrete™ does not contain: cement, wood or plastic, and is as durable as cement but lighter and less expensive, it can be handled without heavy equipment.
The full list of certified test results available in our Download file.